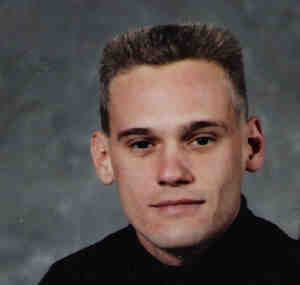 Dwayne Scott Wyant
(1970-)
Dwayne Scott Wyant
Born: 30 Apr 1970, , , Ohio, United States
Marriage (1): Carolyn Anne Crawford on 3 Oct 1993 in Virginia Beach, Virginia Beach (City), Virginia, United States
Marriage (2): Angie
Noted events in his life were:
• Residence: 5049 Terra Lake Circle,: Pensacola, Escambia, Florida, United States.
Dwayne married Carolyn Anne Crawford, daughter of Vernon Crawford and Marilyn Anne Perrine, on 3 Oct 1993 in Virginia Beach, Virginia Beach (City), Virginia, United States. (Carolyn Anne Crawford was born on 23 Mar 1966 in Princeton, Mercer, New Jersey, United States 1 and was christened on 16 Oct 1966 in Kingston, Somerset, New Jersey, United States 2.)
Dwayne next married Angie.
Sources
---
1 Ernest Allen, "The Allen Genealogy" (MS, New Jersey), p. 33; privately held by Jesse Rathbun, [ADDRESS FOR PRIVATE USE,] Georgetown, KY, 2015.
2 Kingston Presbyterian Church (Kingston, New Jersey, United States of America), Certificate of Baptism, Carolyn Anne Crawford Baptism Certificate (1966), issued 16 Oct 1966.